Tesco moved back into profit last year, driven by a move back into like-for-like sales growth and a £300 million reduction in inventory.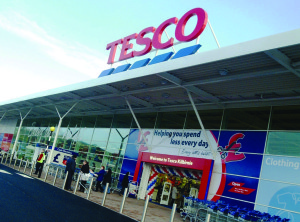 It made an operating profit of £1 billion for the 52 weeks to 27 February. That compares to a loss of £5.8bn the year before when it wrote off some £6.7 billion of exceptions items.
In its domestic business, it reviewed its food categories resulting in an 18 per cent range reduction. Stock was reduced by ten per cent giving clearer back rooms, while sales-based availability was 96 per cent – a record for Tesco.
Working capital improved by £400 million driven by a £300 million reduction in inventory. UK like-for-like sales were up 0.9 per cent in the fourth quarter marking a return to growth.
In its international operations, Tesco reduced stock days by six days, at the same time showing volume growth and gaining market share in five of the seven markets it is active in.
In addition, the group said an initial £400m cost saving programme had been delivered.
Tesco reduced its total indebtedness by £6.2 billion to £15.5 billion. Part of the debt reduction plan is to reduce capitalised lease and other commitments. In February it regained sole ownership of two distribution centres and 49 large stores from Phoenix Life Assurance and the British Airways Pension Fund.
This follows an asset swap with British Land in March 2015 that gave it sole ownership of 21 superstores.
Chief executive Dave Lewis said: "We have made significant progress against the priorities we set out in October 2014. We have regained competitiveness in the UK with significantly better service, a simpler range, record levels of availability and lower and more stable prices. Our balance sheet is stronger and we are making good progress in rebuilding trust in Tesco and our investment case. Our process of transformation has generated broad -based positive momentum in the UK and internationally. We set out to start rebuilding profitability while reinvesting in the customer offer, and we have done this."