UK retail grocery chiefs believe their ability to meet customer requirements is being hindered by slow decision-making in the supply chain, according to a study by research group Blue Yonder.
Nearly 40 per cent of all respondents said decisions in the supply chain were slowing down their decision-making, leaving them unable to keep pace with their customers. The UK's supply chains are considered the weakest across the globe.
Some 34 per cent in the UK said this was down to their supply chain legacy infrastructure. And 35 per cent in the UK said leaner processes in the supply chain would best enable them to meet the needs of the customer at the speed of their expectations.
The research was conducted in the UK, US, Germany and France and included 750 grocery managers and directors.
It found that 90 per cent of interviewees across the globe have issues meeting customer requirements; with a quarter feeling they fall short on delivering a true omni-channel experience. Nearly a third of directors in the UK feel there are too many decisions to make and a similar proportion believe decisions are not being made fast enough. The research also found that one in five feel they do not deliver the product at the speed the customer expects.
Professor Michael Feindt, founder of Blue Yonder, said: "No retailer will survive if they do not adapt their decision-making – whether in the supply chain or on the shop floor – to match the new clock-speed of the customer and keep pace with their expectations."
The research also found that more than 50 per cent of grocery retailers think that decision-making speeds are slowed by too many manual decisions in the process. They also said that better data availability (85 per cent), data analysis (71 per cent) and automation (67 per cent) could help them speed up and make the best daily decision-making.
The research also found a full 100 per cent of directors believe AI and machine learning is either already changing retail, or will change the future of retail.
"Only those retailers who understand the importance of advanced machine learning algorithms and big data will survive and thrive in grocery retail into the future," said Professor Feindt.
---
Grocery discounters continue to grow
Grocery discounters Aldi and Lidl continued their strong growth in the last quarter while Iceland, Waitrose and the Co-op all saw their market share improve, according to the latest analysis from Kantar Worldpanel.
In contrast, the big four all saw their market share fall. Kantar noted that grocery inflation for the period was -1.1 per cent – the 26th consecutive period of grocery price deflation.
UK Grocery Market: Winners and Losers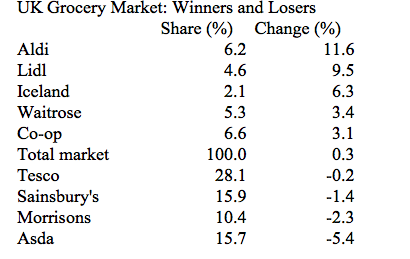 Market share based on total till roll – consumer spend for 12 weeks to 11.09.2016. Change from same period last year.
Source: Kantar Worldpanel.