Victoria Plum scooped the 'Retail Supply Chain Excellence Award' at the 25th Anniversary of the Supply Chain Excellence Awards, held at the Hilton on Park Lane on Monday 8th November.
Strategic collaboration was a key factor in Victoria Plum successfully riding the waves created by the pandemic – and was an influential point for the judges in making their final deliberations.
Ensuring operational excellence across Victoria Plum's supply chain has been fundamental to the company's growth strategy, which means everything needs to be optimised, from the sourcing of materials to the delivery of products to customers.
The company achieved this through agile sales and operations planning. By utilising bespoke Excel tools, it has been able to accurately forecast the availability of materials at both a bill of materials and stock-keeping unit level, which allowed it to ensure it holds enough safety stock to minimise the risk of shortages.
Collaborating with suppliers to understand their production plans was also key to the success of Victoria Plum's supply chain operations. To enhance this further, the company adopted the use of global freight forwarder Flexport's logistics platform. This has allowed it to enhance its visibility across the supply chain and liaise with suppliers directly to significantly reduce response times.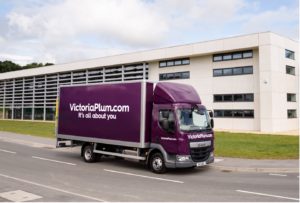 "This entry demonstrated operational excellence across all areas of Victoria Plum's supply chain," deduced the Supply Chain Excellence Awards judging panel. "Faced with significant challenges over the past 18 months – from Covid to material shortages, supply chain disruptions and the Suez Canal crisis – Victoria Plum diversified and strengthened its supply chain networks to provide high levels of customer service with Trust Pilot ratings maintained consistently at 4.6, with 80% of customers reporting an excellent level of service.
"This is all the more commendable with the significant number of partners, making up its supply chain, managed by Victoria Plum in-house, rather than outsourced to a 3PL provider. The company has leveraged technology to enhance visibility, flexibility and resilience of their supply chain."
From the accurate sourcing of materials from a diverse network of suppliers to ensuring high-quality products are delivered on time to customers as part of a seamless experience, Victoria Plum's supply chain management has enabled the business to thrive in challenging conditions.
And as the business continues to grow, maintaining visibility and flexibility across its supply chain, while ensuring it continues to perform strongly against ESG criteria, will remain integral to its success.
"Moving to a digital forwarder (Flexport) was an innovative step, as was the use of the chatbot, which helped Victoria Plum deal more effectively with customer enquiries during disruptive Covid period," the judges concluded. "We also liked the use of the Maritime rail service to Doncaster, which was an innovative way of dealing with the UK driver shortage, which had the additional benefit of reducing truck kilometres."
What they said… Our dedicated and highly skilled team excels across our supply chain and operational needs by having an agile and flexible approach, and by building strong supplier partnerships. Winning this award is testament to the constantly exceptional efforts and achievements of our supply chain and logistics team.
What our judges said… Although this was not the most complex supply chain, the submission covered off their whole supply chain from Far East suppliers through to delivery to customers. It also demonstrated how they had dealt with recent market challenges on container availability, lockdown and significant growth. This was delivered by Victoria Plum themselves rather than a third party.
For sponsorship opportunities for the 2022 Supply Chain Excellence Awards, please click here