farmer connect with UCC Coffee were the only entrants to appear on stage twice at the Supply Chain Excellence Awards last Monday, 8th November, as they claimed the 'The Kinaxia Logistics Award for Food and Drink Supply Chain Excellence' and the star prize, 'The Geek+ Team of the Year Award'.
The big award was presented by Geek+'s Simon Houghton, following the announcement by special guest host Shaun Williamson – also known as 'Barry from Eastenders'.
UCC Coffee is a total coffee solution provider and scooped its accolades for establishing its first-ever blockchain-traced coffee through its 'Orang Utan Coffee' brand in partnership with farmer connect technology. Consumers are rapidly becoming more discerning when it comes to the sustainability and ethics of the products they buy. A vast global supply chain like coffee, though, makes it difficult for them to know where their products are coming from. Farmer connect and Orang Utan Coffee have managed to bridge the gap between consumers and the farmers who grow their coffee using blockchain technology.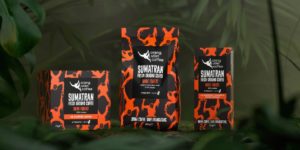 "We loved the moral aspects to this project," the judges confirmed. "It supports many farmers and demonstrates great global collaboration. The blockchain aspects in such an ethical manner are not widely explored yet in innovation. It made us want to go and buy some of their coffee just because of the orangutan images!"
farmer connect is built around three main products: FarmerID, The Connect Hub and the 'Thank My Farmer' app.
'Thank My Farmer' takes the transparency a step further by humanising the supply chain and connecting consumers more directly with the farmers that grow Orang Utan Coffee. They can learn more about its Indonesian origins and the projects underway to support its coffee-producing communities, simply by scanning an on-pack QR code with their mobile phones.
The app also gives consumers the opportunity to become advocates for the coffee producers with shareable social media content and to support the Sumatran Orangutan Conservation Programme. The traceability map includes the capability to see checkpoints such as the initial collection point, warehouses, export and import zones, roastery and distribution centre.
Providing such detailed information about where the product has been sourced and its entire journey to store helps to build trust with farmers, workers, consumers and everyone in between. Promoting this interaction at both ends of the supply chain has the potential to revolutionise not just the coffee industry but the retail industry, too.
farmer connect's software promotes fair, sustainable and traceable agriculture, enabling an inclusive and efficient supply chain from farmers to consumers. Built on emerging technologies, such as blockchain, self-sovereign identity and artificial intelligence, the agritech ecosystem allows safe and private business data storage and sharing, as well as the exchange and tracking of information and payments.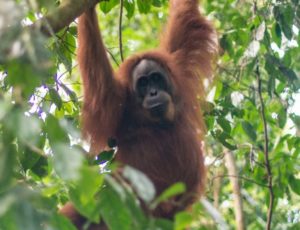 farmer connect is not just tracking sustainability though – it is a business solution. Offering traceability to improve operations, they pull together sustainability strategies and core operations into one solution, which helps to build a stronger business rational for putting sustainability front and centre.
Ultimately, the Orang Utan Coffee brand is on a mission to save the rapidly declining rainforest habitat of the Sumatran orangutan, where only 6,000 native primates remain in the wild today. To date, this independent programme has safely rehabilitated well over 200 orangutans and helped make ecological coffee farming a viable alternative for local farmers to protect the orangutans' natural habitat.
What they said… We have integrated all elements of the supply chain, from crop to cup, and we firmly believe that further change can happen if the coffee industry works together as a whole. The global coffee supply chain is complex, and many people don't realise the different stages their coffee goes through before its final brewing. By using farmer connect's products, we're simplifying this complexity. With farmer connect, sustainability is not a bonus add-on – it is at the centre of good, ethical business.
What we said… The work here has proven this technology allows consumers to track and trace the entire life cycle of UCC coffees and helps them make more mindful shopping decisions, especially with 60% of consumers saying they are changing their shopping behaviour to favour sustainability.
For sponsorship opportunities for the 2022 Supply Chain Excellence Awards, please click here