Scottish freight operators and users have launched a joint strategy to boost the amount of freight on the rails, to meet a target of 7.5 per cent growth set by the Scottish Government last year.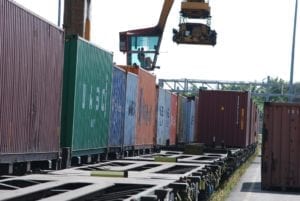 They have defined four actions: doing things differently; achieving simpler solutions; developing growth; and encouraging customer confidence.
The plan is being developed by Network Rail, freight operating companies, freight users, industry bodies and hauliers.
About 50 of the UK's 600 daily freight trains run in Scotland.
"We believe that building capacity in the rail network is vital to help the effective delivery of infrastructure ambitions and look forward to working together to achieve the positive growth targets in place," said Chris Swan, head of rail at Tarmac.
And Ken Russell, managing director Russell Group, said: "It is particularly pleasing to see Transport Scotland placing a requirement on Network Rail to grow rail freight over the next control period and that Network Rail has grasped this with industry mapping out a growth programme."