White goods manufacturer Smeg UK has chosen ArrowXL to provide a dedicated range of delivery, in-home and recycling services.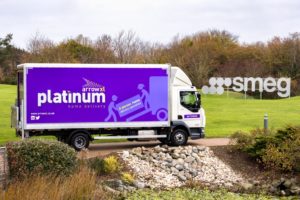 It will exclusively use ArrowXL's Platinum service for UK-wide deliveries of its larger products, including its range of refrigerators and freezers. The service incorporates specialist handling, assembly, installation and connection of high-value items.
ArrowXL will also provide an efficient Waste Electrical & Electronic Equipment (WEEE) recycling service for consumers requiring the removal of any white goods being replaced. It is expected the company's fully trained delivery crews will make approximately 300 deliveries each week.
Smeg UK previously use its own in-house logistics network. Operations director Robert Ponting said: "ArrowXL's commitment to providing the very best customer experience shone through during a competitive tender process. We were thoroughly impressed by the development of the AskAxl app, which enhances consumer convenience and control. This ambition ensured that ArrowXL was the natural choice for Smeg UK."