Warehouse Management Systems (WMS) company and IntraLogisteX exhibitor Snapfulfil has unveiled its new website and corporate identity. This comes after the company's launch of its new software editions, deployment methods and payment options.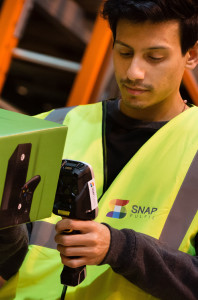 Alongside its cloud WMS, Snapfulfil can now also be installed in customers' data centres – available through a monthly subscription or traditional license, this version has been renamed 'Snapfulfil Pro'.
"Over the last two years, we have more than doubled in size and are now poised to challenge for a larger share of the WMS market, both in the UK and the US," said Tony Dobson, managing director for Snapfulfil. "The branding signals our strong sense of purpose and provides a launch-pad for our ambitious growth strategy, including the introduction of our new software editions, on-premise solutions and exciting roadmap of future developments."
Snapfulfil will be exhibiting at the upcoming IntraLogisteX event on 16th and 17th March 2016. The show will be returning to Jaguar Exhibition Hall 2 of the Ricoh Arena in Coventry.
Snapfulfil will be displaying its solutions alongside a range of exhibitors, including:
Renovotec, Craemer, A27 Engineering, and Indigo Software, along with many others.