Sports Direct acquired House of Fraser for £90 million within hours of the department store group going into administration on 10th August.
House of Fraser operates a national distribution centre in Wellingborough, while online sales are handled from an e-commerce distribution centre in Milton Keynes.
Alan Hudson, Hunter Kelly, Colin Dempster and Craig Lewis from EY's restructuring team were appointed administrators following the withdrawal of a proposed investment in the business by Cenbest and C.Banner.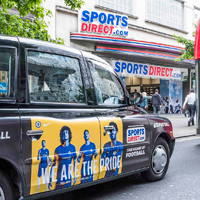 House of Fraser has 59 department stores across the UK and Ireland employing more than 5,900 people. There are also 10,100 people are employed in the various concessions within the stores.
For the year ended 28 January 2017 the House of Fraser group had gross assets of £946.3m and made £14.7m net profit.
The deal includes all UK stores, the HoF brand, and all the stock in the business.
In June HoF put forward a CVA plan that involved closing 31 of its 59 stores and becoming an e-commerce led retailer 'offering a seamless multi-channel proposition and integration between in-store and online experience". This depended on additional funding. But a deal with Cenbest and C.Banner fell through and the company failed to find another investor making administration the only option.
One of Sports Direct's first moves following the acquisition has been to appoint CBRE to advise Sports Direct on all property related matters in relation to House of Fraser.
In a statement, CBRE said: "Contact will be made to all landlords over the following days. James Keany, Head of National Agency, CBRE is advising."
In May 2016 House of Fraser put forward a plan to open a 750,000 sq ft distribution centre in Peterborough to meet the growth in online sales. However, this plan was shelved a few months later and the focus moved to improving the performance of the existing supply chain.
In its annual results for the year to 28th January 2017, chairman Frank Slevin said: "We have conducted a thorough review of our warehouse operations and stock buying patterns to identify inefficiencies in out processes. We believe, based on this review, that there are significant changes that can be made to improve the performance of out logistics and supply chain which we will implement over the coming 18 months."
Shopworkers union Usdaw is seeking urgent talks with Sports Direct.
National officer Dave Gill said: "It is crucial that staff are treated with dignity and fairness through the transfer process and that is best done by the new owner recognising Usdaw as the trade union for House of Fraser staff. We are seeking urgent talks with Sports Direct. In the meantime we are providing our members with the support, advice and representation they require at this very difficult time."
The Unite union, which has members at Sports Direct's Shirebrook warehouse, criticised the deal.
Regional officer Scott Lennon said: "The company does not want to engage in any meaningful sense with Unite at Shirebrook and this obviously sparks concern at the fate that awaits the House of Fraser staff under the new ownership.
" We fear for jobs and employment conditions at the House of Fraser going forward. The staff are entering a period of great uncertainty and worry."
Sports Direct already holds a 29.7 per cent stake in rival department store chain Debenhams. It also holds a 29.9 per cent stake in online retailer Findel.