The DVSA will start issuing on-the-spot penalties to lorry, bus and coach drivers who repeatedly break drivers' hours rules from Monday 5th March 2018.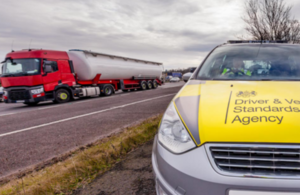 The new rules will mean that DVSA examiners can issue on-the-spot fines for any drivers' hours offences committed in the last 28 days.
Currently, the agency can only fine drivers for offences committed that day, or on-going offences, like manipulating tachograph records.
"DVSA's priority is to protect you from unsafe drivers and vehicles," said DVSA chief executive, Gareth Llewellyn."There's no excuse for driving while tired. The results of falling asleep at the wheel of can be devastating. Any driver or operator breaking these rules is putting other road users at risk.
"These tougher penalties will help us to take stronger action against any drivers or operators who break the law, helping keep the public safe on Britain's roads."
Those drivers that don't live in the UK will have to pay any penalties before continuing on their journey. If necessary, their vehicle will be immobilised until they've done so.