Developer St Modwen has started steelworks for its first speculative 106,000 sq ft unit at its 73-acre St Modwen Park Chippenham.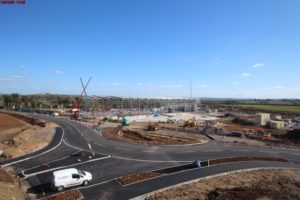 The unit forms part of the first phase of development, which involves comprehensive site wide preparation including a new roundabout access and is expected to be ready for occupation by September 2020.
The site is located off junction 17 of the M4 in the heart of the south west logistics triangle, serving the M4 corridor between Bristol and Swindon.
Once complete, the whole scheme is expected to create around 1,300 jobs.
With work now underway on the scheme, build-to-suit opportunities are available immediately ranging from 100,000 sq ft to 1,000,000 sq ft.
Joint agents are Alder King, DTRE and JLL.