The Stena Edda, which will be used to increase capacity on the Liverpool-Belfast route, has been floated out of the dock at the Avic Weihai Shipyard in China.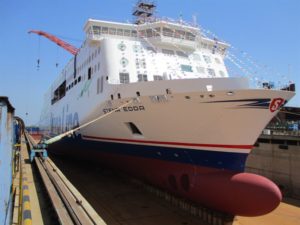 The ferry, which is scheduled to enter service in Spring next year, will provide freight capacity of 3,100 lane metres as well as space for 120 cars and 1,000 passengers – almost 20 per cent more capacity than now.
The ship is the one of Stena's new E-Flexers which have drive through decks for easier loading and unloading. They are also more fuel efficient than existing ferries.