Still will be exhibiting intralogistics solutions at the IntraLogisteX show in March.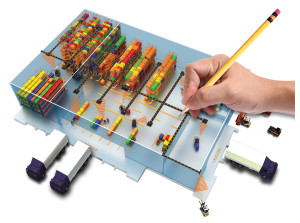 Still develops specific solutions for all industry sectors by controlling the internal flow of materials and the respective data processing in the best possible way.
* Analysis of the flow of material and the utilisation of trucks.
* Plans, concepts and implementation of complete logistics systems consisting of trucks, racking, automating and conveyor technology etc.
* Improving warehouse applications (or complete warehouses) including fire protection, flooring, pedestrian protection, wireless communication, server infrastructure etc.
* Development and drafting of specifications, commissioning and training.
* Simulation.
* Project management.
* Service (incl. 24/7) for hardware and software.
Still joins a growing number of leading industry suppliers at the event, which takes place at the Ricoh Arena, Coventry, on 25th-26th March.
IntraLogisteX's agenda has been accredited by The Chartered Institute of Logistics and Transport with ten CPD hours, allowing attendees to keep up with their professional qualifications. Attendees of IntraLogisteX will gain five CPD hours for each of the exhibition's two days.
IntraLogisteX, will include a host of special zones and pavilions highlighting different aspects of intralogistics:
AMHSA members will be highlighting innovations in automated handling and storage.
There will be a comprehensive seminar programme focusing on critical issues in intralogistics operations.
Demonstration zones will highlight the latest technology in action.
And a special feature for 2015 will be a "Future Zone" demonstrating cutting-edge technologies that will impact on intralogistics in the years to come.
For further details click here.