A strong performance in the fourth quarter of 2016 saw CEVA grow revenue by 4.3 per cent to $1.8 billion in constant currency, the group said in its annual results.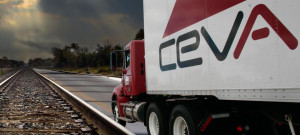 However, EBITDA was down marginally at $64 million. "I am very pleased with the Q4 performance where CEVA demonstrated healthy growth in all business lines and visible impact of our excellence program which supported us to deliver robust EBITDA in spite of the difficult peaks trading, said chief executive Xavier Urbain. "The quarter also saw an impressive recovery in net working capital and strong cash flow."
For the full year, revenue was down from $7bn to $6.9bn, while EBITDA was static at $272m in constant currency. However, currency effects cut revenue to $6.6bn and EBITDA to $254m.
"Overall, 2016 was a year of significant progress in the transformation of CEVA, during which we had some important business wins, successfully addressed legacy issues and we continued to build a much stronger platform," said Urbain.
"The strong improvement in results, in many of our markets, were overshadowed by weaker performance in some countries, which we continue to address. We enter 2017 in a stronger position and I am confident that we will have a much better performance with our excellence program leading to further cost savings."
Freight management volumes increased throughout the year and were ahead of market growth: air freight grew 7.5 per cent in the fourth quarter, while ocean freight was up 8.9 per cent. For the full year, air and ocean volume growth was 6.7 per cent and 4.1 per cent, respectively.
But net revenue margins contracted in both air and ocean freight in the fourth quarter reflecting difficult peaks trading and a general increase in rates following the Hanjin bankruptcy.
"We believe we managed this period relatively well. Our efforts throughout 2016 on trade lane management, procurement, productivity improvements and automation resulted in a 12.5 per cent increase in EBITDA in Freight Management in constant currency."
The Contract Logistics business showed growth in the second half of 2016 resulting from a number of business wins and volume growth on existing contracts. Revenue growth in constant currency was 2.5 per cent in the second half of 2016.
The group said that the return to positive growth in Contract Logistics, "after quite some time, positions us well going into 2017".
The group, which is owned by private equity house Apollo Management, is currently going through a refinancing programme an exchange of some $390m of secured notes which extends repayment from 2018 to 2020. In addition, it has agreed with its banks to extend the maturity of €170m of a European ABS facility to 2020.