Operating profit was up 23 per cent at Clipper Logistics in the half year to 31 October, driven by a strong performance in e-fulfilment and returns management.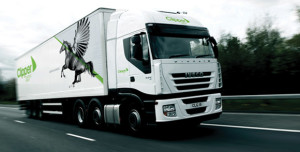 Group revenue rose 16.5 per cent to £164.9 million for the first half, while group EBIT, at £7.6m, was up 23.2 per cent
EBIT in e-fulfilment and returns management was up 21.7 per cent to £4.2m.
Chairman Steve Parkin said: "Our market-leading position in the high-growth area of e-fulfilment and associated services, has been enhanced further by the recent formalisation of a Joint Venture with John Lewis to provide a Click and Collect service dedicated to the needs of high street retailers. We expect this to significantly enhance profits in future financial periods.
"The new business pipeline continues to be strong, and we expect the positive momentum from existing and new contracts to continue into the second half of the year."
The company said it expected the UK's decision to leave the European Union to have little impact on the Group's trading for the foreseeable future.
"The nature of contractual relationships in the UK logistics sector, with approximately 70 per cent of revenue on open book terms, provides a very high degree of protection against both cost inflation and volume downsides. Similarly, the Board expects that there will be little or no impact within the commercial vehicles sector. It remains to be seen whether the government's desire to restrict immigration will have a longer term impact on labour availability, but the Group's contractual structures mean that it is well-placed to be able to compete for labour were that necessary in the future."