To stand on the stage at the Supply Chain Excellence Awards and hold up the Overall Winner trophy requires an organisation to have convincingly demonstrated to the judges that it has all the characteristics and attributes of a world-leading supply chain.
That means showing that it is agile in response to change, innovative in its strategic vision, inspirational when it comes to team management and exemplary with regards the execution of projects and continuous improvement programmes. Of course, everything has to be supported by strong metrics and evidence of sound business benefits. But increasingly, they must also show their leadership in pursuing strong and progressive policies on corporate social responsibility, committing to environmental and ethical initiatives that have far reaching benefits beyond the enterprise – doing the right thing for planet and mankind.
As always, the judging process was rigorous and required every entrant to present to a panel of judges. Scores were applied to key criteria and final decisions were taken by a roundtable of leading experts. This year, amongst the highest scoring entries were Flex, Heineken UK with Trade Team, Wickes with Wincanton, Royal Cornwall Hospitals NHS Trust with Ingenica Solutions, Henkel and Bentley with CEVA Logistics; where they all proved their mettle by convincingly winning their categories.
These high scoring entries displayed many aspects of supply chain excellence, but the front-runners for the Overall Winner trophy came down to two organisations that had taken a global stance on transforming their supply chains in order to deliver environmental and ethical benefits.
Primark implemented a worldwide packaging optimisation programme that analysed the retailer's supply chain and set up clear packaging standards, trained suppliers at factory level, checked compliance pre-shipment and rolled out an IT solution to optimise data capture and visibility. The judges were impressed by the results: a 14% increase in product density, over 40,000 less cubic metres shipped, container utilisation increased from 74% to 85% on average, warehouse pallet density increased 24%, over one million square metres less corrugate material produced and a saving of over 6 million kg of CO2 from freight and material reductions. The judges felt that Primark had taken an important step towards reducing its impact on the environment by taking control of the way goods were packed, going right back to the supply base to bring change. This was certainly an excellent entry, but it wasn't to be the Overall Winner.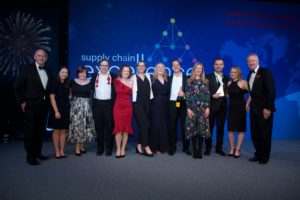 Sky was the entry that really stood out. For the judges, this was a business that had ethical, social and environmental awareness fused into the very fabric of its cultural DNA, from climate change to human rights, across every aspect of its supply chain. Through creating long-term partnerships with suppliers, Sky has been able to successfully set and achieve ambitious targets on increasing energy efficiency and the use of renewable energy, improving the lives of workers and removing single-use plastic from its supply chain.
It was clear to the judges that this was a company that wanted its ethical supply chain strategy to have far-reaching influence across the globe, creating a ripple effect through partners and across the wider industry.
Demonstrating its commitment to a sustainable future, Sky has set a clear vision: to reach net zero carbon by 2050, to double the energy efficiency of its products by 2030 and to have zero single-use plastic in its products and supply chain by the end of 2020. To achieve its goals the business has embarked on a long-term, comprehensive programme of measures to reduce its impact on the planet and to ensure an ethical approach to practices across its supply chain. Product lifecycle assessments have been used to identify natural resource usage, carbon emissions and energy consumption right through to end of life, helping pinpoint areas for attention. And by founding an industry body with the aim of setting new standards for energy usage of set top boxes, Sky has been instrumental in helping improve the energy efficiency of units across the sector.
In the waste recycling industry Sky has brought together the Gangmasters Labour Abuse Authority, Tech UK, waste Compliance Schemes, ERP and REPIC and the Joint Trade Association for recycling to agree a modern slavery protocol that works for all.
Within the business, initiatives across manufacturing, transport, waste recycling, and packaging have delivered significant results. The list of achievements is substantial and reflects the success of this ethical approach to running supply chains: Refurbished products now account for over 15% of all products placed on the market and nearly 30% of all set top boxes are returned to Sky and recycled; trials of EV/low-emission vehicles are being conducted with a target of 25% of vehicles in the fleet to be run on alternative fuel by 2030 – with fuel efficiency improving by 5.5% across the fleet between 2017 – 2018. In the three years up to the end of 2018 Sky has engaged in over 500 social responsibility actions with suppliers and is collaborating with other leading businesses in tackling modern slavery within the supply chain.
This was a business on a mission and the judges could not fail to be impressed. They enthused about Sky's vision and ability to manage a plethora of initiatives with such determination and attention to detail, saying: "Multiple projects have been impressively layered together under a single, clear vision – a complex set of initiatives of great scale and scope, covering the whole global business. They have put in place sound auditing processes and have the metrics to substantiate their performance to date – these are results only achievable through forging long-term, close working relationships with suppliers and partners. They have placed strong ethics at the heart of the business. This is supply chain excellence and Sky deserves recognition."
The judges were unanimous in deciding that Sky CP was to be the Overall Winner of the Supply Chain Excellence Awards 2019.
Giles Harvey, group supply chain director, Sky: "For me, this is a massive team award, everything that's been done in the supply chain has been done by our whole team and has been delivered by the team and also what I love about it is that the team get excited about doing the stuff that they do, so for me it's a massive team award'."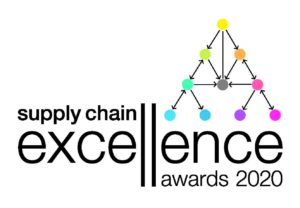 The 24th Supply Chain Excellence Awards will take place on 12 November 2020. The awards are a celebration of all things supply chain and all entrants are put through their paces – including presenting to a panel of their peers – to ensure only the best win the coveted award.
For more information, including how to enter and sponsorship opportunities, and to register your interest go to: Supplychainexcellenceawards.com
You can also hear Giles Harvey, group supply chain director, Sky, speak at the Supply Chain Conference 2020. To find out more go to: Supplychainconference.co.uk