Businesses are becoming acutely aware of the importance of having ethical supply chains. Consequently, the scores in this category were very high. Two entries battled it out for the trophy with just a thin margin between them.
Central England Co-operative is one of the largest independent retail co-operatives in the UK with over 400 trading outlets across 16 counties. As a responsible business it wanted to reduce food waste and at the same time, alleviate food poverty. Through an initiative with the charity FareShare the co-operative has been able to slash its food waste by a remarkable 40%.
By partnering with FareShare, the pioneering, sustainable and efficient food redistribution scheme, 100% of the co-operative's 'best before' food is backhauled, which means good food reaches people in need. Under the scheme the Co-operative invested £50,000 to create a dedicated hub with FareShare East Midlands to redistribute unsold food and products, supporting over 250 local charities.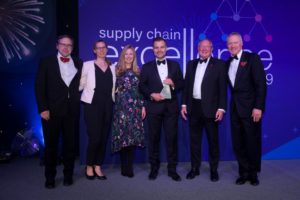 The judges could see that this was clearly a very worthy ethical initiative that deserved recognition. It was a close run thing but Sky CP had the edge, so the judges decided to Highly Commend Central England Co-operative with FareShare.
The entry from Sky CP was impressive – in fact, very impressive. So much so that Sky CP was ultimately judged to be the Overall Winner. The entry set out a progressive and comprehensive strategy aimed at demonstrating the business' commitment to growing responsibly, covering a wide range of challenges from climate change to human rights.
There was plenty for the judges to like, with strong, long-term partnerships with suppliers paving the way for achieving ambitious targets on improving energy efficiency, the use of renewable energy, removing single-use plastic from its supply chains and improving the lives of workers. This was a global initiative driven from the top and written into the very DNA of the business.
The list of achievements reflects the success of this ethical approach to running supply chains: Refurbished products now account for over 15% of all products placed on the market and nearly 30% of all set top boxes are returned to Sky and recycled; trials of EV/low-emission vehicles are being conducted with a target of 25% of vehicles in the fleet to be run on alternative fuel by 2030 – with fuel efficiency improving by 5.5% across the fleet between 2017 – 2018.
In the three years up to the end of 2018 Sky has engaged in over 500 social responsibility actions with suppliers and is collaborating with other leading businesses in tackling modern slavery within the supply chain.
The judges said, "Sky CP have a robust audit process in place and are very clear on vision and measurable high-level goals – this entry fully deserves the Ethical Supply Chain trophy."
Giles Harvey, group supply chain director at Sky, said: "We're really pleased to have won this award because Sky's done a great job in its ethical supply chain. It's affirmation of all the company's efforts over the last couple of years and, equally, motivates us more so for what we're going to do in the future."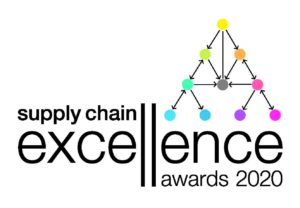 The 24th Supply Chain Excellence Awards will take place on 12 November 2020. The awards are a celebration of all things supply chain and all entrants are put through their paces – including presenting to a panel of their peers – to ensure only the best win the coveted award.
For more information, including how to enter and sponsorship opportunities, and to register your interest go to: Supplychainexcellenceawards.com