The judges were full of praise for the winning entry from Rolls-Royce Aerospace with CEVA Logistics, singling out "fantastic data analysis, good payback and great attention to detail" and said the entry demonstrated "innovative thinking on the number of different solutions used in one shed".
In 2018 CEVA consolidated two separate warehouses for Rolls Royce, with a combined footprint of 260,000 sq ft, into a single location spanning 150,000 sq ft at the same time as supporting an increase in throughput of 40 per cent for outbound lines.
This was achieved through a number of innovative storage solutions which significantly increased the stock density within the facility: one full chamber of the building was fitted with mobile racking which enable the chamber to operate with only 2 aisles. The mobile racking holds over 15,500 pallet spaces, which is an increase of 6,500 pallet spaces in the same footprint. Additionally the full chamber is fitted with in rack sprinkers with flexible hoses.
In the second chamber CEVA amd Rolls Royce Aerospace implemented a storage solution called storganiser which provide dense in rack storage for very small, small and medium parts. Storeganiser is a storage solution whereby pick locations hang on moveable frames that enables the full depth of a ground floor racking bay to be utilised for dense storage.
A two storey mezannine floor was also installed with two deep "Rhino Racking" to maximise the storage of large bulk items that previously needed to be stored in block stack areas as well as an additional external oversize chamber and external loading canopies.
During the implementation CEVA transferred 42,000 Sku's and more than 7 million parts whilse maintaining a live operation and achieving operational metrics.  This included complex project management moving over 8,000 pallets of material off site to enable construction work to be completed.
The judges said that the enter demonstrated not just good collaboration between both parties but clear demonstration of financial benefits and cost avoidance, as well as delivering business security from a long-term solution.
Richard Heath, global head of contract logistics for Rolls-Royce at CEVA Logistics, said: "We've done a number of projects over the last few years, and it feels like both sides have come together to find the best possible outcome, so no side has tried to enforce their processes on the other, both have been interested in learning from each other and finding the best solution."
Winner: Rolls-Royce Aerospace with CEVA Logistics
Shortlisted: Great Bear Distribution with Crown Lift Trucks, Oakland International with Jungheinrich, Travis Perkins and YUNJI Technology with Geek+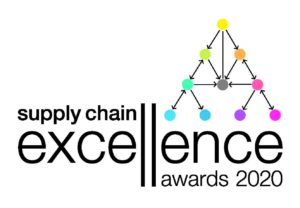 The 24th Supply Chain Excellence Awards will take place on 12 November 2020. The awards are a celebration of all things supply chain and all entrants are put through their paces – including presenting to a panel of their peers – to ensure only the best win the coveted award.
For more information, including how to enter and sponsorship opportunities, and to register your interest go to: Supplychainexcellenceawards.com