XPO Logistics are shortlisted twice, with two different customers in the shape of British Gypsum and Etex, alongside Tesco with FitOut UK and Battersea Power Station Development Company and Logistics Partners Consultancy in the Construction Supply Chain Excellence Award.
The winner of the Supply Chain Excellence Award will be revealed in a virtual ceremony that takes place on 12th November.
You can discover who wins the award by registering for one of two broadcasts on the 12 November:
Register here for the 3.30pm broadcast.
Or register here for the 7.00pm broadcast.
British Gypsum with XPO Logistics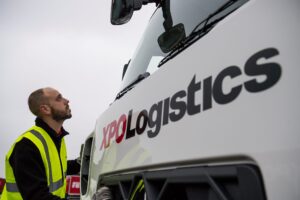 British Gypsum awarded a long-term contract to XPO Logistics to optimise its supply chain, to operate a centrally-managed, UK-wide transport network.
The agreement between British Gypsum and XPO Logistics was signed in January 2019, marking the start of a collaborative 'Transport Transformation Project' to establish a fully integrated, optimised transport network. Key project workstreams were established, bringing together experts from both organisations spanning multiple business functions and departments.
The judges described the entry as "impressive" given the scale of change and speed of delivery.
Tesco with FitOut UK
In April 2020, Tesco opened up a pop-up store at London ExCel to allow Nightingale Hospital staff to buy food and other essentials. The 24-hour shop was set up in response to Public Health England's desire for shops catering to NHS staff during the Covid-19 crisis.
Tesco Group Property Procurement delivered the store with contractor Fit Out UK in under two weeks.
The judges said this was a "very successful project" delivered in "very difficult circumstances building on processes already trialled on smaller basis".
Etex with XPO Logistics
In January 2019, Etx Building Performance awarded XPO Logistics a contract the UK distribution of their plasterboard and ancillaries.
Etex made the decision to move away from a transactional general haulage model, to a dedicated transport mode.
As part of the partnership, XPO helped deliver cost savings, and operational efficiency improvements.
The judges said that the entry showed clear collaboration between the two parties which had resulted in a lot of clear benefits for all involved.
Battersea Power Station Development Company and Logistics Partners Consultancy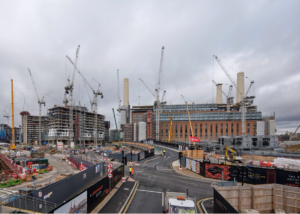 The Battersea Power Station Delivery Management System was developed to meet industry-wide challenges that are particularly acute for the Battersea Power Station Development.
With a peak of 140 vehicles per hour accessing the site via two, short, public feeder roads, traditional delivery management systems that merely scheduled gate times were inadequate.
They worked with Inform and Logistics Partners to develop and implement a class-leading system that changed the emphasis from the vehicle and gate arrival time and placed it on the materials and their points of use to drive and manage materials flow.
Incorporating integrated real-time In-transit visibility Battersea Power Station Development developed a very powerful tool that virtually eliminated on-site delays and significantly improved the flow of materials to the points of use despite high demand and limited vehicle access. That the system is managed without a central team, but instead by users themselves with a simple approvals hierarchy, has made the system highly cost-effective as well.
The judges said that the entry was a "good, well thought out project" with a "tight brief, measurable benefits case and delivered to expectations despite Covid, creating a saleable platform for future development".