Industry 4.0, or the fourth industrial revolution, started out four years ago as a German government project on advanced manufacturing involving the use of electronics and IT to automate production.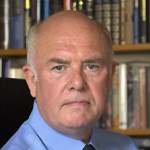 Malory Davies FCILT, Editor.And to a large extent it has been very IT focused, but it increasingly it is having an impact on supply chain. A white paper by Deloitte last year described its as a further stage in the organisation and management of the entire value change process. It highlighted the adoption of information and communication systems that increasingly blur the boundary between the real world and the virtual world in cyber-physical production systems.
It describes CPPSs as online networks of social machines that are organised in a similar way to social networks – linking IT with mechanical and electronic components that ten communicate with each other via a network. It gives RFID as an early example of this.
Not surprisingly, the Internet of Things is a key ingredient in Industry 4.0. Bosch Software Innovations, in a report entitled "Putting the vision into practice" says: "The Internet of Things offers tremendous potential for the manufacturing industry. Machines, systems, products, ICT systems, and people can be progressively connected over the internet, creating a production network in which information carriers communicate with each other and exchange data and information in near real time."
"The future will see a shift away from separately demarcated product lines and factories to a situation in which machines, storage systems, and resources are interconnected worldwide as cyber-physical systems that can communicate with each other."
Car manufacturer Mercedes Benz is one of the pioneers of Industry 4.0, and last month said it is "actively driving forward the transition from automotive manufacturer to networked mobility service provider".
"It's about nothing more and nothing less than the complete networking of the entire value chain – from research and development, through production to marketing and sales," said Dr Dieter Zetsche, chairman of the board of management of Daimler AG and head of Mercedes‑Benz Cars, speaking on the eve of the 2015 Frankfurt International Motor Show.
Much of the development of Industry 4.0 has been done by large corporations such as Daimler, but the impact is going to be felt increasingly all the way along manufacturing supply chains over the coming years, whether it be in planning, visibility, or supplier management. Is your supply chain ready for it?