Suttons has won a logistics contract transporting sodium cyanide for Cyanco after coming up with a way of updating an existing tank container design to handle the toxic substance safely.
Sodium cyanide is used in gold mining to dissolve and separate gold out from ore. Because of its toxic nature, there are strict regulations surrounding its storage and transport.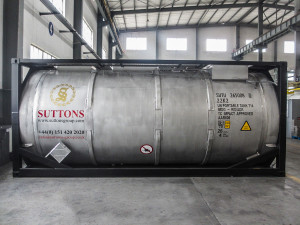 The contract was won by Suttons' North American team. Suttons' technical department worked closely with Cyanco's technical team to update an existing tank container solution which uses a sparger system designed to dissolve solid sodium cyanide briquettes into a liquid sodium cyanide solution, used at gold mining sites across the world.
George Easterling, Cyanco's supply chain director, said: "We have a strong working relationship with Suttons and are highly impressed by their flexible and innovative approach.
"We are committed to safety of not just employees and customers, but the environment as well.
"We maintain strict controls that manage risk and are pleased to have a responsible and solution driven partner in Suttons to work with us to continuously develop our processes and procedures."