ICA, which has 36 per cent of the Swedish grocery market, is to partner with Ocado and use the Ocado Smart Platform to develop its online business.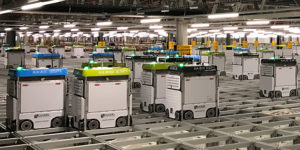 ICA and Ocado will develop their first customer fulfilment centre in the greater Stockholm area. The build is expected to take some three years. ICA will also transition its store-pick based operations to Ocado Smart Platform.
"Our cooperation with Ocado entails that they will adapt their world-leading e-commerce platform to ICA's business model with independent retailers," said Anders Svensson, chief executive of ICA Sweden and Deputy chief executive of ICA Group.
"At the same time, we will benefit from the fact that Ocado are continuously developing the platform for themselves and other leading grocery retailers around the world. An automated e-commerce warehouse will enable us to offer customers a wider product range online and better deliveries while at the same time streamlining ICA's logistics flows."
ICA is the leading grocery retailer in Sweden with around 1,300 stores across the country and a market share of around 36 per cent, generating sales of SEK 106.5bn in 2017.
The end-to-end solution will include front-end web site functionality, supported by Ocado's proprietary 'web shop' and mobile grocery ordering applications; construction of Ocado's latest generation, state-of-the-art automated warehouse designed specifically for grocery ecommerce (in which Ocado will invest to install internal infrastructure and robots); and last-mile routing management technology to optimize delivery efficiency, customer service excellence and punctuality.
Ocado will be adapting its model to suit the needs of a different business model, based on retailer-owned stores. The model will enable the independent retailers to continue to compete, which has been instrumental in making ICA one of the most successful grocery retailers in the world, while delivering the benefits of scale of Ocado's centralised fulfilment model. The platform is expected to be implemented by the end of 2020.
In addition to this initial CFC, ICA and Ocado will consider developing other CFCs elsewhere in Sweden.
ICA will pay Ocado upfront fees upon signing and during the development phase, then on-going fees linked to both sales achieved and installed capacity within the CFC and service criteria.
Luke Jensen, chief executive of Ocado Solutions, said: "ICA has a strong track record of growth and innovation and our Smart Platform will give the ICA-retailers the opportunity to provide their customers with new levels of service, convenience and value. Our flexible, scalable and modular solution is uniquely positioned to address a fresh set of challenges and allow ICA deliver its ambitions for online."