Tesco is reassessing plans for its distribution networks following the failure of Palmer & Harvey, it said in its prospectus for the takeover of Booker.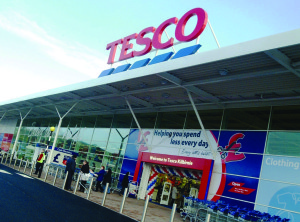 The retailer expects to save £175 million a year as a result of synergies from the Booker deal – some 35 per cent of which will come in distribution and fulfilment.
"Optimising a joint national distribution system of Tesco and Booker is expected to lead to material benefits, including sharing parts of the delivery fleet."
However, it said: "The recent failure of Palmer & Harvey, a national distributor that worked with Tesco, has caused a reassessment of plans for the distribution networks of both businesses and how they will be best brought together. This assessment is underway and will be completed after the merger."
Some 55 per cent of the identified cost synergies are expected to be generated from improved purchasing cost efficiencies and sharing best practice across each of the three main types of supplier: fresh, own label and branded, it said. "These opportunities comprise end-to-end cost reduction, lower waste, new opportunities for shared innovation and better optimisation of supply terms for the combined group."
Other benefits include an enhanced click and collect service. The prospectus said: "In addition to its network of relationships with independent retail partners that operate over 5,000 convenience stores through its banner and wholesale supply arrangements, Booker also supplies over 440,000 catering outlets, including many pubs and restaurants, across the country. l A large number of these independent convenience stores and food service outlets have the potential to become click and collect pick up locations for Tesco, increasing the density and availability of Tesco's click and collect network and creating additional footfall and revenue opportunities for Booker's current customers."
Tesco also said that Charles Wilson, currently chief executive of Booker, will become chief executive of Tesco's retail and wholesale business in the UK. He will take over from Matt Davies who will leave Tesco on completion of the merger.