Tesco has made savings of £104 million in its logistics and distribution operations as part of its plan to cut operating costs by £1.5 billion by 2019-20.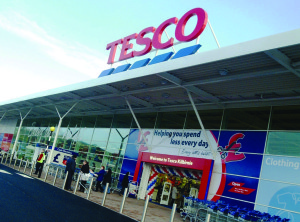 In its results for last year, the company said it had now achieved total savings of £820m in the programme which was launched in 2016. Most of the savings, £541m have come from changes to its store operating model, while it has also saved £174m on goods not for resale.
Despite the growing competition from the discounters, Tesco's operating profit rose 81 per cent to £1.84 billion in the year to 24th February 2018 on sales up 2.3 per cent to £51 billion.
The retailer wants to achieve a profit margin of 3.5-4.0 per cent – at the moment the figure stands at 2.9 per cent. It said that currently there were two areas where margins were below average: the general merchandise category across all channels; and the online channel for all categories.
Chief executive Dave Lewis said: "We have further improved profitability, with group operating margin reaching 3.0 per cent in the second half. We are generating significant levels of cash, and net debt is down by almost £6bn over the last three years. All of this puts us firmly on track to deliver our medium-term ambitions and create long-term value for every stakeholder in Tesco."
During the year, Tesco completed its takeover of Booker and is looking for a synergy benefit of c.£60m in the first year, growing to a cumulative c.£140m in the second year and reaching a recurring run-rate of c.£200m per year by the end of the third year.
Lewis said: "I am delighted to have completed our merger with Booker, and we are moving quickly to deliver synergies and access new growth, making the most of the complementary skills in our combined business."