Tesco is working on plans to cut logistics costs by some £450 million by 2019-20. It wants to make its distribution system more efficient and responsive as part of its strategy to boost group operating margin from 2.18 per cent to 3.5-4.0 per cent.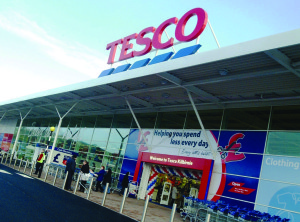 In its first half report, the group said it was seeking some £1.5 billion of operating cost reductions over the next three years, to be realised through a more efficient and responsive distribution system, a simpler store operating model and goods not for resale savings.
The plan also involves generating about £9bn cash from operations, including about £400m from reduction in stock.
The group reported a one per cent rise in like-for-like sales in the first half. Operating profits was up 60 per cent to £596m on sales up 3.3 per cent to £24.4bn.
The cost reduction plan is part of a package of six strategic drivers (see below) outlined by chief executive Dave Lewis. "While the market is uncertain, we have made significant progress against the priorities we set out two years ago, stabilising the business and positioning us well for the future," he said. "Today, we are sharing the plans we have in place to become even more competitive for our customers, even simpler for colleagues and an even better partner for our suppliers, while creating long-term, sustainable value for our shareholders."
It aims to reduce operating costs by a total of £1.5bn through initiatives in three areas: the store operating model, logistics and distribution, and goods not for resale.
In logistics and distribution, Lewis outlined a series of initiatives to cut costs by some £450m, focusing on optimising range, stock flow and fulfilment. These include:
Partnerships, sales forecasting and lower stock holding
Lower fulfilment costs
Opportunities to integrate supply and logistical systems
Common international systems
Industry leading packaging solutions
Improving the store-operating model would save some £550m, said Lewis. Operational improvements would include:
Moving from nights to day
Changes in trading hours
Single customer service desk
Replenishment savings
Scan as You Shop
Lewis said there were potential savings of some £500m in the area of Goods not for resale, focusing on leveraging organisational scale. These include:
Single procurement policy
Finance transformation
IT systems
Functional roadmap
For the 26 weeks to 27th August, UK like-for-like sales were up 0.6 per cent in the first half, while volumes were up 2.1 per cent. The group also said there had been an improvement in UK supplier satisfaction measure at 78 per cent (up from 51 per cent in 2014/15).
The six strategic drivers outlined by Lewis are:
A differentiated brand
Reduce operating costs by a further £1.5bn
Maximise the mix to achieve a 3.5 – 4.0 per cent group margin
Maximise value from property
Innovation