There is a new player in the European materials handling market. Lisa Townshend travels to China to see what makes the technology behind BYD a game changer for forklifts.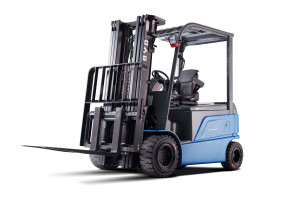 BYD (Build Your Dreams) began life in 1995, when it was founded by Wang Chuanfu and developed rapidly to become a leading rechargeable battery manufacturer. Now BYD has grown into a global player not only in batteries but also IT components, automobiles and new energy products. In 2003 it established its automotive division; with its biggest products being electric buses and taxis. Recently the company made the news in London after TFL introduced five all-electric double decker buses onto its bus network, with other routes having integrated single decker buses over the last few years.
Recently the company has turned its attention to materials handling, and after three and a half years of R&D is launching products into the European market.
The main differentiator for BYD is the battery technology. The company was founded on making batteries, and now is a manufacturer of battery technology for many of the major players in electronics, from mobile phones to electric vehicles. The development of its lithium-iron phosphate battery is one of the company's proudest achievements, and it is very protective of it, being fundamental to the drive towards cleaner power.
While lithium ion is a standard material for batteries, the use of iron phosphate as the cathode has significant advantages over even this. According to BYD, lithium-iron phosphate is stable and does not require any cooling; reducing the risk of the battery overheating and exploding. The BYD battery has also been subject to safety certification from international standards such as UL 1642 (Lithium ion batteries), UL 2580 (Batteries for use in electric vehicles) and UN 38.3 (Transport of dangerous goods). Furthermore, the cells do not contain any heavy metals or toxins, making them a very clean option and easy to dispose of at the end of their lifespan. And speaking of lifespan, BYD guarantees the forklift battery for eight years (or 10,000 hours of use), and expects that the battery will still be at a fairly high operational level even after this time.
One of the advantages the team at BYD sees with its forklift, is the fact that you don't need two batteries for each truck – one will do the job. The battery is fast charging and can be topped up during coffee breaks or any downtime, just as easily as you charge a smartphone, with no degradation of the battery life; saving time for operators as well as money.
The battery production facility in Kengzi produces roughly 100,000 cells a day, with a capacity of 10 gigawatt hours per year. To put this into perspective ten gigawatt hours is enough to power 10 million homes for an hour. Proof of just how much battery power BYD produces is also to be found in the second site at Kengzi that, when finished, will also produce four-six gigawatt hours a year; combine this with other sites that collectively produce 10 gigawatt hours per year. The Kengzi facility is automated, allowing for consistent and reproducible results. Watching the batteries being made from a single cell to huge module packs to be used on buses and coaches via the automated system really gives you an idea of the scale the batteries are produced on.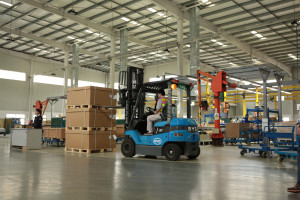 One thing that comes with the safety of the battery is also reliability. The battery is designed to work consistently at extreme temperatures; ie if you are working at   -40 degrees C, it keeps more than 45-50 per cent of the battery for use. Adaptable for use in cold storage at   -29 degrees C, the forklifts will work without changing the oil or adding additional lubrication. On the other hand if you work at 60 degrees C or more, the company says the battery will continue to work at 100 per cent power. The battery is tested for different 'abuses' including vibration, shock, fire, submersion and collisions at different speeds.
BYD has also been careful to leverage its advantage as a producer of this technology to be able to keep the cost competitive. European forklift sales director for BYD, Javier Contijoch, believes that the advantages of buying a BYD forklift will not just be the technology, but also the cost savings it represents. "The economical advantages are obvious. If you are driving a forklift and you have a battery that never needs to be replaced, it means a clear economic advantage. If you don't need to buy new batteries you don't need to spend thousands of euros (or even more with double shift) every few years.
"The second advantage is that it is fast charging. You cannot charge other types of batteries – for example lead acid – fast, it takes seven hours at least. With lithium-iron phosphate it can charge in a little as one hour or maybe less. Charging very fast means that you don't need to take it out to recharge or replace it so you don't need to spend minutes of expensive labour every day stopping the forklift, removing the battery, placing the other one in and then at the end of the day checking the levels. So all of this is an amount of minutes that every year accounts for a lot of money.
"The third advantage is that it is extremely energy efficient. The chemistry of the battery is such that if you put 100 units of energy in the battery 98 per cent of these units go in and only two per cent is lost as heat. This is ultra low if you compare it to lead acid batteries where around 30 per cent is lost in heat.
"Let me give an example – imagine that you take one tonne of lead or iron and you want to heat it from room temperature to 60 degrees which is what happens in real time and then you do that every day and then you need to let it cool down until you can use it. And you pay for this, every day. It might be 20 cents – €3 a day per machine.. multiply that over five years and it's a lot of money.
"With our battery you keep adding savings – so less money in labour for battery changing, less money in energy, less money in battery amortisation, less money in yearly maintenance – keep adding these together and you can save between €2,000-€6,000 per machine, per year. And that has nothing to with the machine – it is just the technology of the battery and the charger that makes that possible."
To view the forklift production facility you have to travel 350km north of Shenzhen to the town of Shaoguan, where the industrial park focuses entirely on the assembly of BYD forklifts. Here the company manufactures forklifts for its three main markets, China, Europe and the US.
The main difference between the trucks bound for Europe is the components – the trucks will use components sourced from European suppliers to reinforce the commitment to quality. In addition each truck bound for Europe is individually tested for quality assurance.
Contijoch says: "We have been making motors and controllers for many years. All the buses and taxis that we have around the world, which run into the thousands, all use our technology. It is more of a marketing decision to use European suppliers – we don't want to run any risk on acceptance by the customer.
"So, what components are European? The motors are German; the seat is made by Grammer in Germany; the controller is Swedish (we mainly use Danaher); the axles and gearboxes are from Italy and the controller for the hydraulic mast is German. So the most expensive parts are outsourced. The only thing from BYD is the design and the build and the battery technology. We know the battery is good – Daimler has chosen it for its range of Denza electric cars. We think we are offering the European market a very good quality product with a long warranty and it saves money. It's a win-win for the customer and it makes the drivers very happy."
But how do they drive? Well, in inexperienced hands the trucks were very responsive and easy to learn how to handle. You could toggle between a low and high speed option to limit how fast the truck could go at a given time. In more experienced hands the truck could manage an incline of 20 per cent with ease and stop on it with no rollback. Truck performance was comparable to others on the market and BYD wants potential customers to trial the trucks before they buy to ensure they are happy with the technology and it suits their needs.
The difference that the BYD battery technology makes to the performance and the cost effectiveness of the forklift range is substantial. Some of the range will be available to view at this year's CeMAT show in Germany from 31st May to 3rd June.
Click here to see more picture from Logistics Manager in China