TNT has started operations at its new 56,000 sq ft parcel distribution hub in Swindon, and the site is expected to be fully operational by the end of the year following completion of development work.
IDI Gazeley has developed the build-to-suit facility at Highworth Road in 26 weeks. The building has 101 loading doors to give access to the maximum number of vehicles at any given time, improving speed of operations.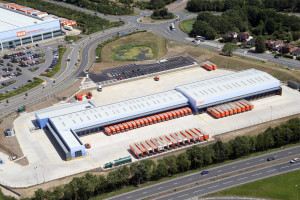 Simon Harper, director of operations at TNT UK, said: "This facility is our biggest infrastructure investment in the UK for 15 years, and the result that we've achieved has been first class. Working with IDI Gazeley we were able to develop the Parcel Distribution Hub to meet our exact needs, benefiting our business, our people, and most of all our customers."
TNT chose the site in Swindon for its ease of access to junction 15 of the M4 motorway and rapid connections the site would provide to its tens of thousands of customers across the South and South West of England. The parcel distribution hub and adjoining depot is already in use and expected to be fully operational by the end of the year.
Nigel Godfrey, UK head of IDI Gazeley said: "We were appointed by TNT to deliver this flagship regional distribution hub facility back in December last year. We are delighted to hand it over on time and on budget which is testament to the outstanding project delivery team assembled on this project. Our relationship with TNT goes back several years and stretches across several countries in Europe, and we are pleased to deliver this latest facility which has be so well received."
The TNT site is next door to B&Q's 800,000 RDC which was developed by IDI Gazeley in 2011. The 98 acre Highworth Road site now has 437,000 sq ft left available for build-to-suit development.