Toshiba has launched its dynaEdge Assisted Reality Smart Glasses which are designed to provide both hardware and software in one turnkey package to improve warehouse efficiency and picking accuracy using hands-free technology and voice controls.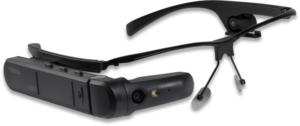 The dynaEdge uses the Windows 10 Pro operating system to enable integrating with existing infrastructure and security standards. It has all the power of a computer, available through Toshiba's AR100 head mounted display.
The display can be mounted on a lens-less frame, safety helmet, safety frame and headband. The mounted display has a touch pad, programmable buttons and 5 MP camera.
Toshiba's accompanying Vision DE Suite software enables users to take photos, access diagrams, receive text messages, record and stream live video and to save and retrieve documents.