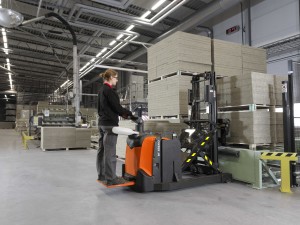 The range consists of a pedestrian stacker (SWE120XR), a platform stacker (SPE120XR) and a double pallet handler (SPE120XRD).
The short turning radius and the retractable mast make this solution suitable for working in narrow aisles, tight spaces and adaptable to a wide variety of environments, including cold store. The models can also be optionally fitted with a side-shift or fork positioner to increase productivity.
The new range is available with Lithium-ion battery as an option. Toyota reckones this is suitable for intensive operations thanks to a reduced energy consumption of up to 30 per cent.