Toyota Material Handling has awarded DHL Freight the contract to provide transport of its newly launched line of racking systems to customers' sites all across Europe.
Hans Larsson, director logistics solutions at Toyota Material Handling Europe, said:

"When we recently launched our latest line of racking solutions, it soon became clear that we need a partner who has the knowledge and capabilities to design and implement a solution in perfect synchronisation with the project plan of the site."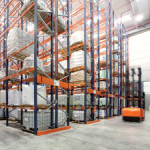 The service provided by DHL follows the same set-up as for an automotive production plant.
Each shipment may travel through the network as less-than-truckload (LTL), part-truckload (PTL) or full-truckload (FTL) cargo based on a series of criteria, such as the production date at the supplier site, the agreed delivery day and the nature and size of the goods.
Material for one single warehouse installation may also come in from different locations in Europe. DHL has to ensure that all material arrives on the agreed day. It brought in experts in transport planning and pulled in various IT tools used to manage the flows for customers in the automotive sector.
"Transport management for highly diverse cargo and critical delivery timelines call for thorough planning and creative solutions," said Stefan Brunner, global sector head automotive at DHL Freight.
The equipment varies from small boxes to full size 13 metre long racks. In the course of this project, DHL will transport over 90,000 tons of freight.