Trago Mills has opened a £65 million megastore in Merthyr Tydfil, Wales using Jungheinrich racking and material handling equipment.
The site has 200,000 square feet of retail space, including warehousing. Jungheinrich is supplying a wide aisle racking and a fleet of 17 trucks. There are three reach trucks with mast heights of eight metres, six man-up order pickers, two pedestrian pallet trucks, two hydrostatic counterbalance trucks, a stand-on pallet truck and an electric stacker truck.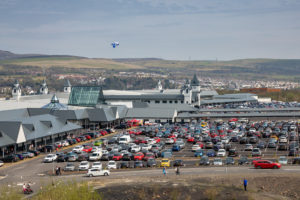 Bespoke racking was fitted to the carpet warehouse. This is by an indoor/outdoor reach truck with a carriage mounted boom attachment and a low-level order picker traverses the store's 400-metre-long service corridor.
"Jungheinrich has worked closely and consultatively with us every step of the way to ensure a solution that meets our exact requirements," said Trago Mills managing director Brent Pinhay.
"Trago Mills required a complete storage and material handling solution that was cost-effective, efficient and bespoke," said logistics systems director at Jungheinrich UK, Steve Richmond.