Transdek UK is launching the Tall Boy trailer a double decker with internal load clearance of up to 2.2m on each floor.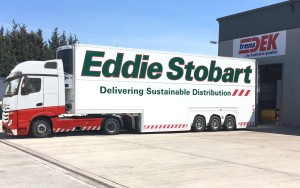 The multi-temperature trailer has been developed for Eddie Stobart Logistics and will be operated on primary and trunking distribution contracts. It can carry up to 55 per cent extra load volume when compared to a single deck trailer, saving up to 35 per cent on delivery miles for products that have previously only been transported by single deck trailers.
Transdek is exhibiting the trailer at the TCS&D Show at the Ricoh Arena, Coventry, 13 – 14 September.
"We're extremely excited about the continuing success of the Wedge trailer and the potential for the Tall Boy," said Transdek managing director Mark Adams. "We've been carrying out trials with some of the country's leading retailers to demonstrate how they can carry up to seven tonnes more payload and 23 per cent extra load by volume in these trailers when compared to stepframe moving deck trailers."