Developer investor Peel L&P's £10 million proposal for major improvements to Junction 23 of the M6 will pave the way to opening up its 1.8 million sq ft Haydock Point scheme in St Helens by 2021.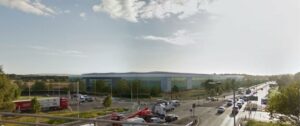 PLP confirmed the route and funding to the council as part of the overall terms and conditions required for planning approval for the site.
Plans for the £165 million Haydock Point industrial development were submitted in 2017
A PLP spokesperson said: "Demand for new logistics buildings in the region is extremely strong and Haydock Point is ideally located to satisfy these requirements.
"PLP will deliver this scheme quickly, including a vastly improved layout to Junction 23, delivering significant benefits to local people and local businesses. Haydock Point will become the best logistics employment park in the North West."