Logistics developer Tritax Symmetry is going net carbon zero from July.
The developer announced that all new developments within its portfolio will be constructed to net zero carbon in construction in line with the UK Green Building Council's (UKGBC) Net Zero Carbon Buildings Framework.
This follows a 12-month study, working with parent company Tritax Big Box REIT, to assess how net zero carbon in construction could be achieved.
From July 2020 the group will mitigate the embodied carbon generated from its development programme by funding high-quality, accredited and verified offset schemes. The offset scheme selected is in line with the current principles set out in UKGBC's net zero framework.
All new buildings will continue to maintain a minimum of BREEAM 'Very Good', with the developer working with customers towards achieving net zero carbon in operational use as it has done with DPD at Bicester.
The company will continue to promote the inclusion of renewable and cost-efficient design features such as LED lighting and solar photovoltaics, with the aim of achieving an Energy Performance Certificate (EPC) rating of 'A'.
Environmental consultant Scott Hughes undertook the study, which evaluated the whole life carbon of a typical logistics development blueprint, assessing the areas of highest embodied carbon and opportunities to reduce these.
Hughes will continue to review alternative products and processes with Tritax Symmetry, and also provide ongoing measurement of the embodied carbon in our new developments.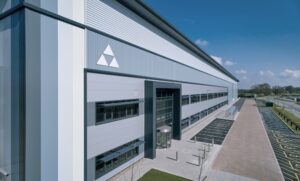 This commitment is part of Tritax Big Box's broader sustainability strategy that also includes a pledge to achieve net zero carbon across the whole Group, to enhance nature and wellbeing, as well as create a positive socio-economic impact in all the local communities in which the Group's assets are located.
Helen Drury, Tritax Big Box's Sustainability Lead, said: "The property sector has a significant role to play in reducing carbon emissions and aiming for net zero carbon in construction is a meaningful first step.
"As part of our broader sustainability ambitions, this commitment is central to delivering our customers' future proof, best in class logistics space that's resilient to climate change and ensure that we also create a lasting social and economic impact within the communities we operate."
In May this year Tritax secured planning consent for a new parcel distribution facility for DPD at Symmetry Park, Bicester. The specialist 60,000 sq ft distribution hub will be constructed to net zero carbon in construction, in line with the UK Green Building Council's (UKGBC) Framework.
DPD operates a net zero carbon delivery model and aims to be the greenest delivery company in the UK. With over 600 electric vehicles, equal to 10% of its fleet, DPD leads the parcel sector on the move to sustainable logistics and has launched a raft of other initiatives including energy and waste management, green packaging, smart urban delivery models and the DPD Eco Fund for schools and educational facilities across the UK working on green projects.
This deal will see DPD relocate its existing operation in Bicester, and once fully operational, the new facility could create up to 250 new jobs.
Savills and DTRE are joint letting agents at Symmetry Park, Bicester.