TrustFord, the world's largest dedicated Ford dealership group, has opened a 22 acre fleet distribution centre at Long Marston Business Park in Stratford-Upon-Avon.
The new facility is the biggest dedicated Ford dealer logistics centre in the country and willl serve as a national fleet hub, able to store about 7,000 vehicles, and will handle all fleet logistics requirements from vehicle storage, preparation and onward delivery to customers.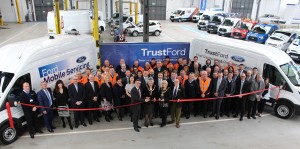 TrustFord, which is wholly-owned by the Ford Motor Company, has deployed a GPS system to locate each of the 7,000 vehicles on the site.
The site has more than tripled TrustFord's footprint in Long Marston, where it has been based for the past two years, expanding in size from seven to 22.5 acres. The expanded site handles over 30,000 vehicles a year when operating at capacity. The site will also prepare over 3,000 used commercial vehicles for onward sale via the dealer group's 14 Transit Centres across the UK.
Steve Hood, chairman and chief executive of TrustFord, said: "Today marks a key milestone in TrustFord's goal of specialising in the Fleet business in the UK. This investment gives us the scale and resources to meet our fleet customers' needs today and into the future. We treat Fleet sales as a business priority and this investment gives us dedicated IT systems, dedicated vehicle storage & preparation facilities plus bodyshop and repair capacity to ensure we are best placed to meet our fleet customer needs in the UK."