Two thirds of the floor space at the Robotics & Automation exhibition, which will be held on the 29-  30 October 2019, has been sold and it has moved to the larger Ricoh Arena, Coventry UK.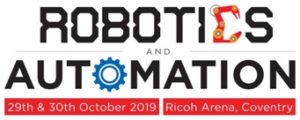 The exhibition is set to be double the size of the 2018 event showing the massive demand in the industry for robotics and automation solutions to maximise efficiency in warehouses and plants in the UK.
The event has been a huge success due to its unique approach in only allowing end-users through the door meaning exhibitors are spending their time talking to a captive audience of keen buyers.
The event will be a platform for key industry players to share the latest innovation with the industry and will be packed with live demonstrations of the latest technology.
The two conferences taking place on the show floor which boast a comprehensive line-up of topics and industry leading speakers will also be a big draw to visitors to attend the show.
Exhibitor comments:
"Exhibiting for the first time we found the show to be very productive as it gave us a great opportunity to meet with existing customers and new potential in the developing robotics sector; already looking forward to next year and the expanded show at the Ricoh."
Stewart Goulding, Electro Mechanical Systems Ltd
"The show was a great success for us, we will be taking more staff next year and have already booked a much larger stand right opposite the main entrance, already looking forward to it.."
Chris Wood, bots.co.uk
"The show was very well attended, especially on the first day and we have a strong list of contacts that we met including some existing customers."
Lucy Murphy, Dematic
"Another great show following the inauguration event last year.  We recorded a 17% increase in visitors and discussions on our stand with a serious number of very positive lines of enquiry.  Looking forward to Ricoh next year, stand already booked!"
Simon Adams, MD, Werma
Suppliers are urged to book their presence quickly as stands are selling fast for this unique opportunity to meet end-users actively looking to source their solutions. Stands start from only £3,987+VAT which includes walling, carpet, lighting, power, name board, web listing, show guide entry and marketing support.
To find out more contact Nairn Foster now on 020 7953 3807/ [email protected]
If you are an end user looking to discover the latest and best the industry has to offer then please register free at www.roboticsandautomation.co.uk
For more information please contact:
Email: [email protected]
Telephone: 07429429462