Companies have until 10th July to respond to a Transport for London consultation on plans to cut the speed limit in London's congestion charge zone to 20 mph.
The speed limit would apply to roads managed by TfL including Victoria Embankment, Blackfriars Road and Borough High Street.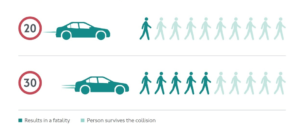 TfL argues that speed is a fact in 37 per cent of collisions in which a person dies or is seriously injured. "Each year more than 4,000 people are killed or seriously injured on London's streets. The evidence is clear – lowering speeds on the most dangerous roads saves lives," said mayor Sadiq Khan.
As well as new 20mph signs and road markings along routes, TfL plans to raise the height of pedestrian crossings in seven high-risk locations to discourage speeding, have been chosen for locations where high numbers of collisions resulting in death or serious injury have previously occurred. Speed cameras on all of TfL's roads within the CCZ will be amended to 20mph, and mobile speed cameras will also be used to make sure drivers comply with the new limit.
The plan is part of Khan's Vision Zero Action Plan which also includes the Direct Vision Standard for lorries, which is planned to come into force in October 2020.
Have your say here.