The first six months of 2016 have shown record numbers of UK van registrations, Society of Motor Manufacturers and Traders (SMMT) figures have shown. According to the research, new van registration was up by 3 per cent to 191,996 in the first half of this year.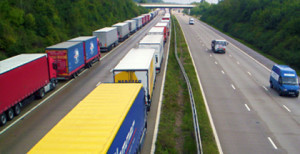 The society said that heavier vans (> 2.5- 3.5T) and pick-ups drove the growth in June, where registrations increased by 11.3 per cent and 17.3 per cent respectively.
In June, registrations rose by 2.7 per cent to 36,700 vehicles.
"It's been an encouraging first half for the new LCV sector and, while growth may be slower than the record levels seen last year, the market remains strong with all the signs pointing towards a healthy performance in 2016," said Mike Hawes, chief executive, SMMT. "Maintaining economic certainty for van operators will be key to the sector's ongoing success."
Read 'Home delivery drives van growth' in the latest Logistics Manager to find out more about growth in the market.