The winners of the UKWA Awards have been revealed at the association's Annual Awards Luncheon.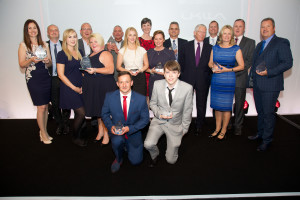 The Best New Warehouse Member was won by Bullet Express, a company that 25 years ago started off with one van, and now boasts an annual turnover of over £10million.
The award for Junior Manager of the Year was taken home by Daniel Radford of B&H Worldwide, the multi-national logistics company.
Tomasz Pietrak-Owazany from Aztek Logistics was named Warehouse Manager of the Year. The judge found that since being promoted to warehouse manager in 2014, he has made a 'considerable impact' on the running of the company's warehouse operation.
The Environmental Award was won by The Finishing Line, the print finisher handling a large volume of UK magazines. The company is working with publishers and distributors, and has put forward the idea of reusing value added goods on the front cover of magazines. It estimates that in 2016, over three million magazines and gifts will avoid landfill because of their efforts.
The Warehouse Auditor, which recently launched an app for managing warehouse improvement, took home the Technical Innovation Award.
The Training and Education Award was won by Colin Snape, employer chair of the Supply Chain Trailblazer group.
Young Employee of the Year Award was won by Abbie McGuffie, who is multiuser warehouse contracts executive at Peel Ports.
Voiteq, the global provider of voice-directed solutions, won the Customer Service Award.
 The Warehouse Company of the Year Award was picked up by Miniclipper Logistics, the groupage haulier turned full service 3PL is growing at a rate of 38 per cent per year.
Last but not least Michael Pepper of Great Bear Distribution took home the Chairman's Award.