TNT increased underlying revenue by 4.2 per cent to €1.6 billion for the first quarter of 2016, and, although it made an operating loss of €1m, this was a €10m improvement on last year.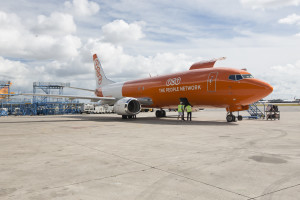 The results, which were affected by fewer working days, included one-off charges of €10 million, of which €4 million related to the FedEx offer.

 Excluding one-off charges, TNT's adjusted operating income was €9 million, up €8 million year-on-year.
Tex Gunning, TNT's chief executive officer, said: "In the first quarter, TNT again delivered solid underlying revenue growth. Adjusted operating income improved despite fewer working days and continued investments in the Outlook strategy.
"The Outlook strategy is on track and delivers good growth from SME customers.
"Our customer satisfaction scores hit new records in Q1. Investments in operational excellence have started to pay off and were €51 million during the quarter. We made good progress with the roll-out of the Global Business Services and Simplify & Transform initiatives.
"Meanwhile, we spent significant time and effort towards the completion and preparation of the intended acquisition by FedEx, which we expect to complete in the first half of 2016."