UniCarriers is launching a new low level order picker – the first of the O-range of order pickers which it says offer improved efficiency and ergonomics.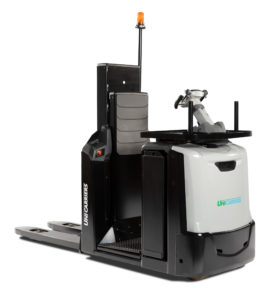 Starting in July it will first be offering the four models OLP, OEP, OLH and OEH – order pickers with and without lifting platforms and Ergolift. Further models will follow in autumn.
The trucks use "Instant Launch" technology that allows the driver to accelerate immediately when boarding without having to operate the presence switch. The vehicle reacts without delays and response times are significantly reduced compared to conventional order picking trucks. The vehicle also "Boost Effect" technology to help it reach top speed quickly.
The operator floor area has a step height of only 123 mm, which is below the industry average.