140 workers at UPS' Camden depot are to strike over alleged bullying, harassment and racism. The delivery company's staff plan to strike for 24 hours on Wednesday 7 December and Friday 9 December.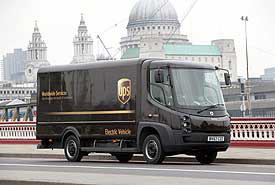 Unite, the union representing the workers, has said that workers are "forced to work overtime so they can finish their deliveries", and that if they refuse or fail to finish the deliveries, they are disciplined.
A UPS spokesperson said:
"UPS has been informed that UNITE intends to call industrial action for two days at UPS's facility in Camden on the 7th and 9th December. Operational contingency plans have been put in place in order to ensure that any disruption to our service will be minimal, should the action occur.
Discussions with UNITE are currently on-going under the oversight of Acas, and we remain hopeful that a mutually satisfactory agreement can be reached.
"People are our greatest resource, and UPS works closely with labour unions around the world.  It is UPS's policy to comply with all laws governing employment and labour practices worldwide, and UPS is careful to take into account the point-of-view of unions along with the interests of our customers, our employees, our shareholders and our company as a whole."