UPS has tested an autonomous residential drone delivery; launched from one of its package vehicles.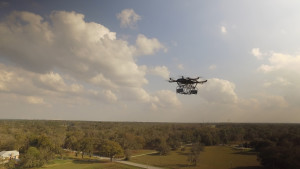 The drone, built by Workhorse Group, autonomously delivered a package to a house while the driver of the package vehicle continued on to another destination. The drone then returned to the vehicle in its new location.
How it works:
The drone docks on the roof of the truck – a cage suspended underneath the device extends through a hatch into the vehicle. The driver loads a package into the cage, after this, they press a button on a touch screen. The drone then travels to a pre-set route to an address.
The device recharges while it's docked on the vehicle – it has a half hour flight time and can carry packages of up to ten pounds.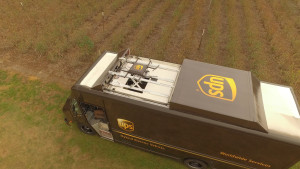 "This test is different than anything we've done with drones so far," said Mark Wallace, UPS senior vice president of global engineering and sustainability. "It has implications for future deliveries, especially in rural locations where our package cars often have to travel miles to make a single delivery.
"Imagine a triangular delivery route where the stops are miles apart by road.
"Sending a drone from a package car to make just one of those deliveries can reduce costly miles driven.
"This is a big step toward bolstering efficiency in our network and reducing our emissions at the same time."
Stephen Burns, Workhorse founder and chief executive: "It's wonderful to see this technology applied in such a practical way. The drone is fully autonomous. It doesn't require a pilot. So the delivery driver is free to make other deliveries while the drone is away."