UPS has launched its first eBike – an electrically-assisted tricycle which is designed to deliver packages. The launch, which is in a testing phase, coincides with the delivery company's pledge to reduce carbon emissions.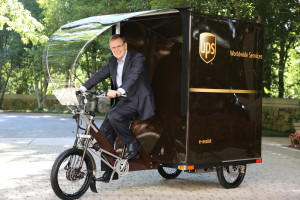 "Early in our 109 year history, UPS operated as a bike messenger company," said Mark Wallace, UPS senior vice president global engineering and sustainability. "While we have evolved and developed a vast network of ground and air vehicles, the bicycle may be making a comeback as we navigate through crowded urban areas and continue our focus on environmental sustainability."
The new eBike includes battery-powered electric motors which enables it to cover further distances, carry substantial loads and navigate hills.
If the trial in Portland, US is successful, the company expects more eBike deployment and testing next year.