UPS has placed a reservation for 125 of Tesla's new fully-electric Semi tractor units which have a base price of £140,000 when they become available in 2019.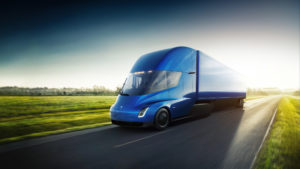 UPS has provided Tesla real-world UPS trucking lane information as part of the company's evaluation of the vehicle's expected performance for the UPS duty cycle.
Juan Perez, chief information and engineering officer, said: "These groundbreaking electric tractors are poised to usher in a new era in improved safety, reduced environmental impact, and reduced cost of ownership."
Tesla's Semi tractor claims up to 500 miles range on a single charge, an unparalleled cabin experience for drivers, enhanced on-road safety and significantly reduced long-term cost of ownership. Safety features include: automatic emergency braking, adaptive cruise control, automated lane guidance, and brake-by-wire and steer-by-wire with redundancy.