UPS and autonomous drone technology company Matternet have partnered to transport medical supplies via unmanned drones at WakeMed's hospital and campus in Raleigh, North Carolina, US.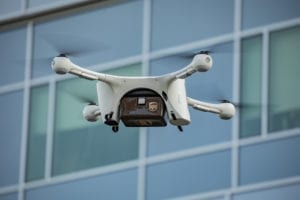 The programme includes oversight by the Federal Aviation Administration and North Carolina Department of Transport. This the first FAA sanctioned use of a drone for routine revenue flights involving the transport of a product under a contractual delivery agreement.
The use of drones to deliver medical supplies provides the opportunity for on-demand and same-day delivery, avoiding roadway delays. The enables increased medical delivery efficiency, lower costs and improved patient experience with potentially life-saving benefits.
Throughout the WakeMed programme, a secure drone container with a medical sample or specimen will be loaded onto the drone at one of WakeMed's nearby facilities. Then the drone will fly to its destination (a fixed landing pad at WakeMed's main hospital and central pathology lab) along a predetermined flight path. A specially trained Remote Pilot-in-Command will monitor the journey.