Dachser has won a German government award for an urban delivery project in Stuttgart, which, the company says, reduces CO2 emissions per shipment by 24 per cent, particulates emissions by 32 per cent, and nitrogen oxide emissions by 26 per cent.
The pilot project covers four square kilometres in central Stuttgart within which all groupage shipments to B2B and B2C customers are delivered with zero emissions.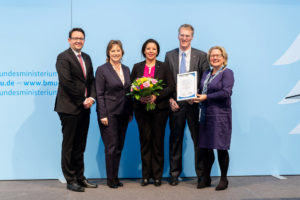 A FUSO eCanter all-electric light truck either delivers goods directly to customers or brings them to the micro hub operated by partner VeloCARRIER.
There, pallets are unloaded and shipments transferred to electrically supported cargo bikes for the delivery runs.
Dachser will integrate an all-electric 18-ton Daimler eActros into these operations as soon as the vehicle is available. The charge point for the electric truck is located at Dachser's Kornwestheim branch to the north of Stuttgart, which—like all the logistics provider's branches in Germany—purchases 100 per cent hydroelectric power.
The electric trucks are driven by trainee truckers; this lets them get fully acquainted with electromobility from the outset.