Crown has announced that it has equipped its Wave Work Assist Vehicle with V-Force lithium-ion battery technology.
Starting immediately, customers can order the manufacturer's WAV 60 Series in one of two lithium-ion configurations.
For normal, everyday applications, Crown offers the V-Force Lithium-Ion Compact Battery (24V, 105Ah) with an onboard 50A charger. Alternatively, for customers needing continuous, multi-shift operation, a 210Ah configuration is available with an external charger. One major benefit is common to both configurations: whenever operators need to recharge the Wave, all they have to do is plug it into a standard power socket. All V-Force Lithium-Ion Compact Batteries are guaranteed for five years.
"We're all already familiar with the obvious benefits of lithium-ion technology," commented Alexander Möllenkamp, Marketing Product Manager EMEA at Crown. "This makes the Wave more flexible than ever, because now it's available for use at short notice, even for unexpected jobs. And as maintenance-free V-Force lithium-ion batteries are more efficient, our customers can expect to see big productivity increases and cost savings over the long term."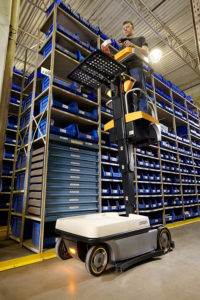 Crown's battery range still includes a maintenance-free, lead-acid battery, so that each customer can opt for a tailor-made energy storage solution based on their specific application requirements and on-site infrastructure.
Wave simultaneously enhances safety, productivity and flexibility. It is especially popular for working at heights of up to 5m in areas where ladders were previously commonplace. The multipurpose vehicle is designed to tackle a wide variety of jobs in busy, confined areas, in industries such as retail, distribution or manufacturing. It is ideally suited to handling and transporting smaller loads in receiving, shipping and put-away applications, as well as order picking. The Wave is also perfect for elevated maintenance and cleaning operations.
Wave operators can drive along while simultaneously raising or lowering the operator platform, resulting in smooth, efficient workflows. The truck's two AC motors deliver rapid acceleration and speeds of up to 8km/h.
The Wave's load tray supports up to 90kg, while the fixed load deck can hold up to 115kg. For even greater flexibility when the truck is being loaded, customers also have the option of fitting a powered load tray with infinitely variable positioning.