Valor to develop 153,000 sq ft urban logistics park in South London
Valor Real Estate Partners is to push ahead with a 153,000 sq ft speculative urban logistics park in Mitcham, south London with a £27 million loan from Investec.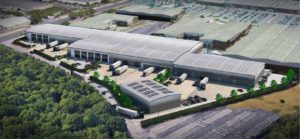 The site was acquired in January 2019 and Valor proposes to redevelop the existing c. 110,000 sq ft estate into modern trade counter and mid box units ranging from 5,000 sq ft to 85,000 sq ft, suitable for a diverse range of occupiers. The site also has the potential to cater to single tenant build-to-suit requirements.
Matthew Phillips, principal at Valor, said: "As London's industrial supply and demand imbalance continues to grow, this site will provide high specification new product with prime access to the densely populated submarkets."
The 48-month loan will support Valor through the planning, development and stabilisation periods. Erin Clarke, at Investec Structured Property Finance, said: "The growing appeal of urban logistics has been well-documented as consumer habits have evolved; the rise of e-commerce and increasing demand for same day delivery make sites like this near large cities very attractive."