Virgin Hyperloop One will be showcased at the Expo 2020 mobility innovations event centered on transforming the global future held in the Middle East.
The event will highlight global innovations in the fields of opportunity, mobility, and sustainability.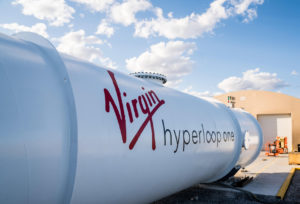 Virgin Hyperloop One will be exhibiting the feature pods that physically simulate how it would feel to ride a Virgin Hyperloop One system.
Virgin Hyperloop One's largest investor DP World will be featured next to the U.S. Pavilion as the Expo's Premier World Trade Partner, exhibiting under the cargo brand under Virgin Hyperloop One, DP World Cargospeed.
"Historically, cargo has always driven innovation in transportation and we see hyperloop technology as absolutely essential to the expanding market of on-demand, sustainable global shipping," said DP World and Virgin Hyperloop One chairman Sultan bin Sulayem. "Having Virgin Hyperloop One featured as a prominent symbol of global innovation at Expo 2020 is thrilling for us since we are so invested in the company—not just financially, but as believers in their unique technology."
Virgin Hyperloop One is currently active with projects in the Middle East, Europe, India, and in the United States of America