Voiteq will be exhibiting its portfolio of intelligent voice solutions which complement and enhance automation operations at the IntraLogisteX exhibition to be held at the Ricoh arena in Coventry on the 26 and 27th February 2019.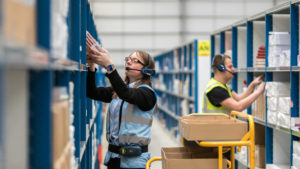 Voiteq will be showcasing solutions deployed in some of the world's busiest distribution centres, enabling visitors to discover live demonstrations of its VoiceMan Warehouse Execution System (WES) and Auto-ID systems which enable smoother running and increased productivity in the warehouse.
Visitors will also have the chance to see the VoiceMan Data Analysis, which converts large volumes of operational data into easy to understand, actionable insights and introduces powerful predictive analytics. Likewise, CLASS Visualiser for VoiceMan will be showcased, which integrates into VoiceMan products to give real-time 2D and 3D views of voice associates.
"With the growth of e-commerce, operations are being challenged with increasing expectations from customers, while also facing internal demands to ensure increased productivity and accuracy. What is important, is to understand the best way voice technology can be integrated along with automation to solve these challenges and deliver a strong ROI for the future," said Voiteq UK sales director Matt Gregory.
"IntraLogisteX is an important platform for the UK supply chain, bringing together a wide range of industry experts", he added. "We're looking forward to meeting with customers and industry experts to share our knowledge and expertise."